Kalkfabrik Netstal AG
Manufacturer of high-quality lime products in Switzerland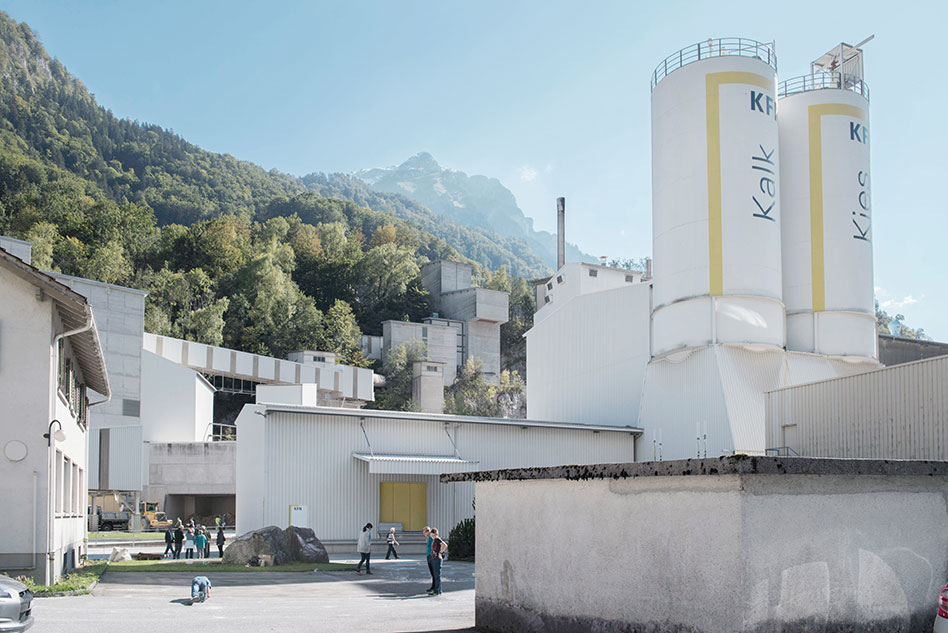 Portrait
KFN is the only producer of quicklime products in Switzerland. The natural limestone that we have been mining for more than a century at the Elggis mountain in the Swiss canton of Glarus is 98 % pure calcium carbonate. Thanks to a geological oddity, in the Swiss canton of Glarus the oldest sedimented lime layers are to be found on the surface. They are the ones with the largest degree of purity – a considerable success factor of our KFN quicklime products. Each year we produce roughly 90,000 metric tons of them for our customers coming from traditional as well as nascent industries. We are linked with them by our passion for pure quality that is to be found both in our production process and in the natural quicklime itself.
KFN
What defines us
KFN, the only quicklime manufacturer in Switzerland, is mining limestone since 1900. From a humble start on the Elggis mountain in the Swiss canton of Glarus, a geologically unique location for Swiss lime, in nearly 120 years a modern, performing and sustainably successful company has evolved. With a motivated and competent team and a wide range of outstanding quality quicklime, gravel and ballast products, KFN keeps expanding its market share, both within Switzerland and internationally. KFN – that's modern know-how and 300 million years-old geology for your ideas of the future.
Our location at Netstal
Our roots are our future
Mining for lime demands a high degree of expertise. Only with the knowledge and a feeling for the natural limestone you can sensibly mine lime. Which also explains our strong links to our location. We treasure and maintain our relations to the Netstal village, the Glarus community and to the Swiss canton of the same name, relations that have been strengthened over the many years of our existence. It is our aim to successfully continue producing lime products here in Netstal, being responsible for all the humans living here and for the benefit of all.
Values
Mission statement and quality policy of Kalkfabrik Netstal AG
KFN's mission statement is the basis for its strategic orientation and documents the values that determine the everyday proceedings at the lime factory.
Company
Responsible for the Kalkfabrik Netstal AG
Geology
Lime Region Glarus
A success factor given to us by mother nature
Innovation has a firm tradition in the Swiss community of Glarus. This is the home of numerous successful companies for many decades, and nature adds ideal site conditions. When the Alps were formed some 30 million years ago under immense tectonic pressure, here in the Swiss canton of Glarus the rockbeds were stacked upside down. This is why the oldest limestone stratum, roughly 300 million years old and straight from the depths of the primal ocean, suddenly ended up at the surface. And it is precisely because of this that it has a singular purity reached nowhere else in Switzerland and far beyond Swiss borders: more than 98 % of calcium carbonate. This is a very special gift from mother nature to KFN, a gift we make available to you using our special know-how for your future-minded industrial projects.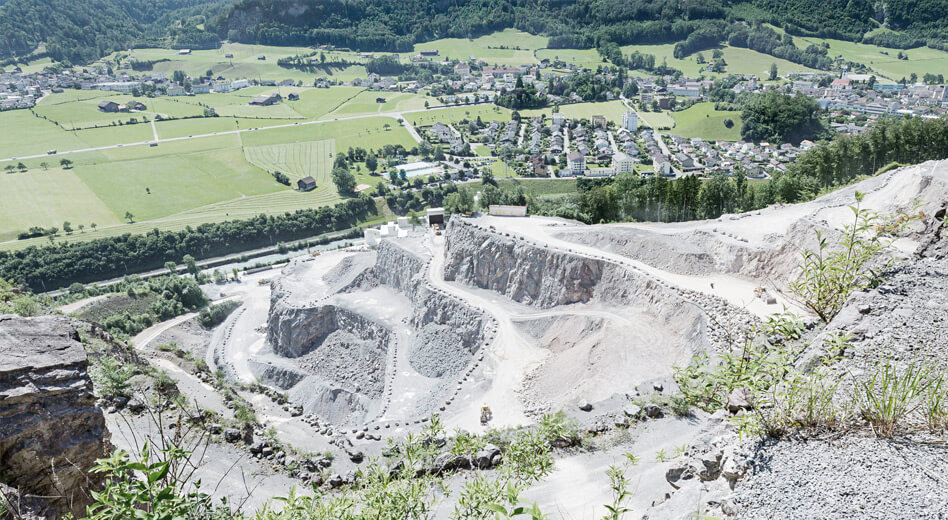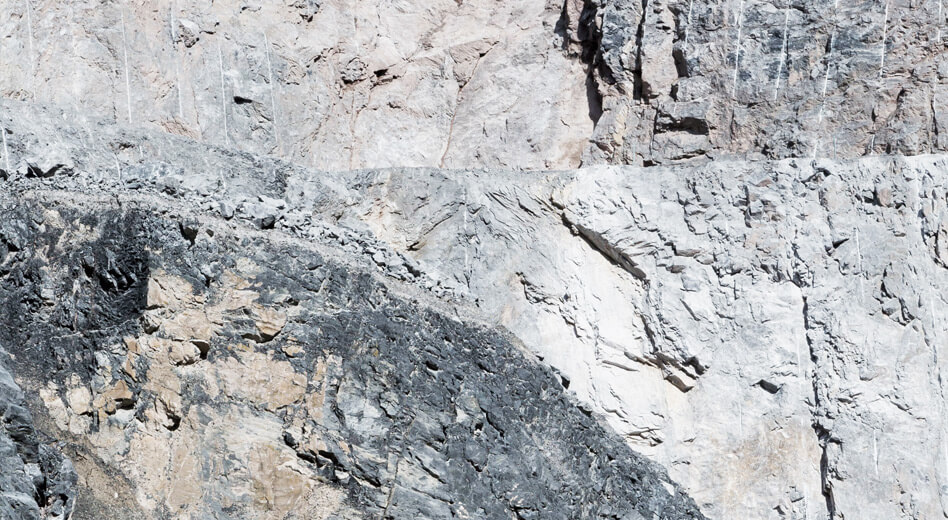 Lime
Treasured already by the ancient Romans
Its name alone is history. The word calcium, as the German word for lime, "Kalk", come from the Latin "calx". This term was used, inter alia, to just mean "stone", the ancient Romans used it to describe the natural limestone. Today, we use the word also to describe KFNs refined quicklime and slaked lime, also called calcium hydrate, that are used for numerous industrial purposes.
Limestone
KFN's natural resource
KFN's natural resource started millions of years ago as sediments of creatures in the primal oceans. Corals, snails or shells shed the calcium carbonate in their skeletons. Over the course of time, they were converted into the mineral lime sediment rockbeds, which ended up upside down here at the Elggis mountain.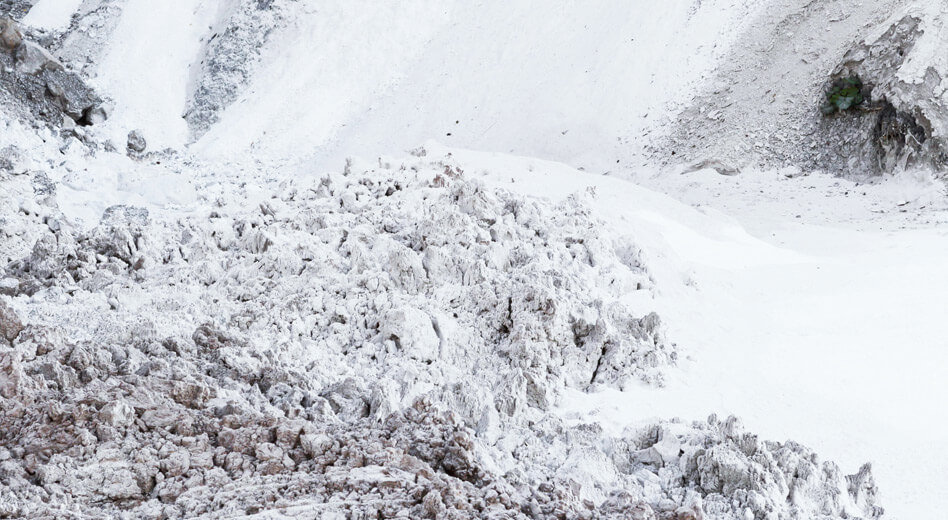 Lime as a raw material
Valuable throughout the ages
Lime is one of mankind's oldest raw materials. Archaeological findings in eastern Turkey prove that knowledge of how to mine and process lime was put into practice already 14,000 years ago. The Egyptian pyramids were built from worked limestone blocks and jointed with lime mortar. As was a large part of the Great Wall of China, standing on soil that was solidified using lime. As far as mining and refining of lime is concerned, it was the ancient Romans who first developed a professional industry. Even the job of the lime burner was known by the antique master builders. While part of this knowledge was forgotten in the Middle Ages, it was the alchemists who re-discovered the qualities of lime again. In the 19th century, the professional burning of lime began in Schwanden in the Swiss canton of Glarus. In 1900, the lime quarry of Elggis in Netstal was opened. The history of our "Chalchi", or KFN, began.
Environment
The future
It is in our hands
KFN produces roughly 90,000 metric tons of quicklime each year. More than a quarter of it is used for environment protection, be it wastewater cleaning, flue gas treatment or the neutralizing of pollutants in industrial wastewaters. But just as our assortment of quicklime products is used for sustainable industrial processes, we at KFN strive to constantly improve our ecological footprint, from mining to questions of logistics. It is our goal to minimize our impact on the environment and to provide optimal working conditions for our staff. Whenever we see the need for action on KFN's side, we proactively take the necessary steps, in open dialogue with all stakeholders.
Mining for lime
Landscaping and renaturation
Since 1994, we extend our limestone quarry towards the anticline in an environmentally friendly way and in accordance with the decision of the local parliament. The mining project is divided in five stages with an average mining period of 15 years each. We mine from top to bottom. After each mining stage, the mined part is replaced by landscape-appropriate planting, thus ensuring it fits in well with the surrounding landscape. The old quarry is reused as landfill and for the renaturation of the new, southern quarry plot.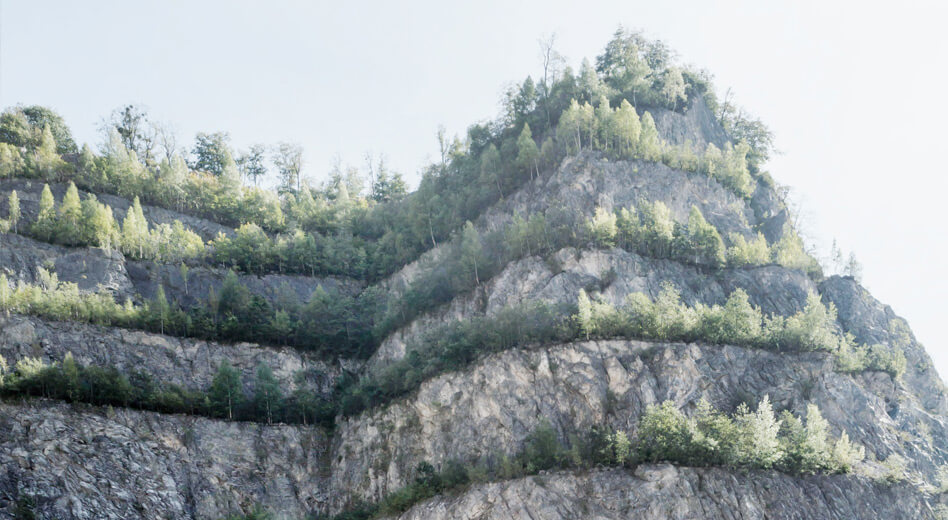 Lime production
Sustainable for the future generations living in Netstal
Roughly one in every five Swiss francs KFN spends on renovation or a new building project is invested in environment protection measures. These investments include, for example, a charging and dedusting facility for the furnaces, measures to prevent noise emissions, a new furnace concept using a high-performance direct current regenerative furnace and a new waste water treatment facility including sludge treatment. A responsible use of resources and savings on energy and the CO2-emissons also played a significant role in the construction of the new pre-crushing-, gravel conditioning- and filler grinding-plants, of the laboratory buildings, the storage facility, the new office building and the hydrating plant in combination with new central packaging and palleting plant.
Energy efficiency
Saving using innovative solutions
Compared with 2013, KFN is saving roughly 4,700 metric tons of CO2 and 800 megawatt hours of energy each year (as of 2015, according to the EnAW). The switch in 2013 from oil to gas played a major part in that saving. The somewhat aged rotary piston fan at the lime burning oven could be replaced by an innovative solution using hybrid blowers. Each year, this energy-efficient measure means savings of 340 megawatt hours.